07/04/10 -
Creamed Salt Cod Crepes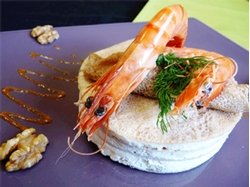 For 6 people,
Preparation : 15 mn
Cooking : 20 mn

Ingredients: • 400 g BRANDADE de NIMES (Creamed salt cod) • 200 g shelled prawns • 100 g gruyère • 50 g walnuts
Cut out the crepes using a small round stainless steel cutter.
Mix together in a bowl the creamed salt cod, gruyère and chopped walnuts. Alternate between 1 layer of crepe and one layer of the creamed salt cod mixture until you reach the rim of the stainless steel cutter.
Bake in the oven for 20 minutes at 180 °C.
Sprinkle with walnuts and whole prawns to decorate. Suggested decoration: add a dill leaf.
Back