22/03/10 -
Ocean Profiteroles Lobster Sauce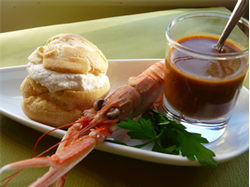 For 3 people,
Preparation : 15 mn
Cooking : 15 mn

Ingredients : • 400 g BRANDADE de Nîmes (Creamed salt cod) • 9 medium-sized choux pastries • 400 g lobster bisque • 4 tbsp crème fraîche (soured cream) • 6 scampi • salt, pepper.
Heat the creamed salt cod in a saucepan or bain-marie and bake the empty choux pastries in a warm oven for a few minutes.
Season and fill the choux with creamed salt cod and replace their lids.
Bake for 2 or 3 minutes max. in a moderate oven (200°C or TH. 5/6).
Mix the crème fraîche with the lobster bisque and heat through gently to create a lobster sauce.
Pour a little of the sauce on each plate and drizzle evenly around the choux. Decorate each plate with 2 scampi.
Back